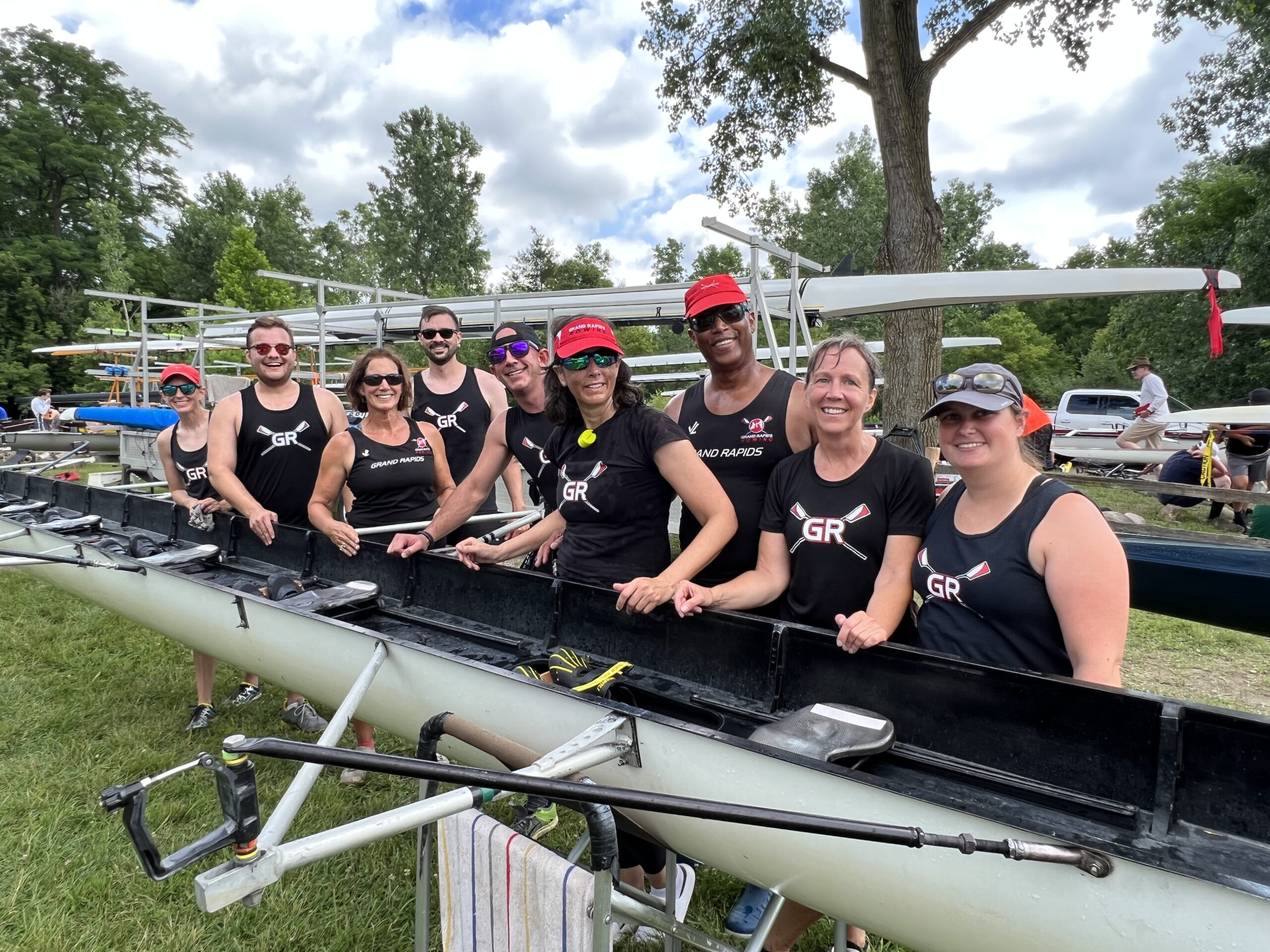 The Grand Rapids Rowing Club is an adult member-owned club. As a club, we offer programming for new adult rowers, competitive rowers, and high school club rowers. Membership is required for Adult Recreation and Masters programs. Membership is not required for 100- and 200-level classes.
Membership Benefits
Members enjoy a wide variety of competitive and recreational opportunities, as well as several social events throughout the year.
Rowing privileges (for Individual, Family, Pair, and Young Adult memberships)
Free participation in Adult Recreational program, Monday and Wednesday evenings, and Saturday mornings for coached, on-water rowing from spring through late fall
Access to member-only classes and programs, such as intermediate sculling and masters competitive rowing
No additional cost for equipment use or access
Once certified by a GRRA coach, members have full access to the boathouse, including a wide assortment of club shells to use as often as you wish (subject to club policies)
Discounts on private coaching*, merchandise, workshops, classes**, regatta fees, and rowing programs offered by the club
Access to rack storage for private shells ($150 indoor for 1x/2x, $300 indoor for 4+/4x/8+, $75 outdoor annually)
15% discount at Mill Creek Tavern and a 15% discount on food at Vitale's of Comstock Park
Full access to website and club communications
Ability to hold board positions
*Membership does not include private coaching. Group coaching is available during Adult Recreation, which is included in your membership, on Monday and Wednesday evenings and Saturday mornings.
**Membership does not include class fees. However, members receive a discount on classes.

Membership Obligations
Members are required to support the organization through service opportunities and boathouse duties. We strongly encourage you to take part in:.
Dock-in/Dock-out days
Hosted regattas
Learn-to-Row days
Boathouse, grounds, shell, equipment and dock maintenance
Fundraisers
Equipment Fund – $50/year payment or fundraising efforts

Membership Signatures and Payments
Memberships run from April 1 to March 31 of the following year. If a new member joins during the rowing season (after May 1) his/her membership fee is prorated for that year. Full payment is expected when you join, and can be made online. You can also choose to send a check to the club or place in the boathouse dropbox. *Paying by check saves the club online fees.

Grand Rapids Rowing Association
PO Box 315
Comstock Park, MI 49321

Links to all documents are on our iCrew site.
Club Rules and Procedures
USRowing Safety Video
Rowing Waiver
Water Temperature Waiver (GREEN Certified only)