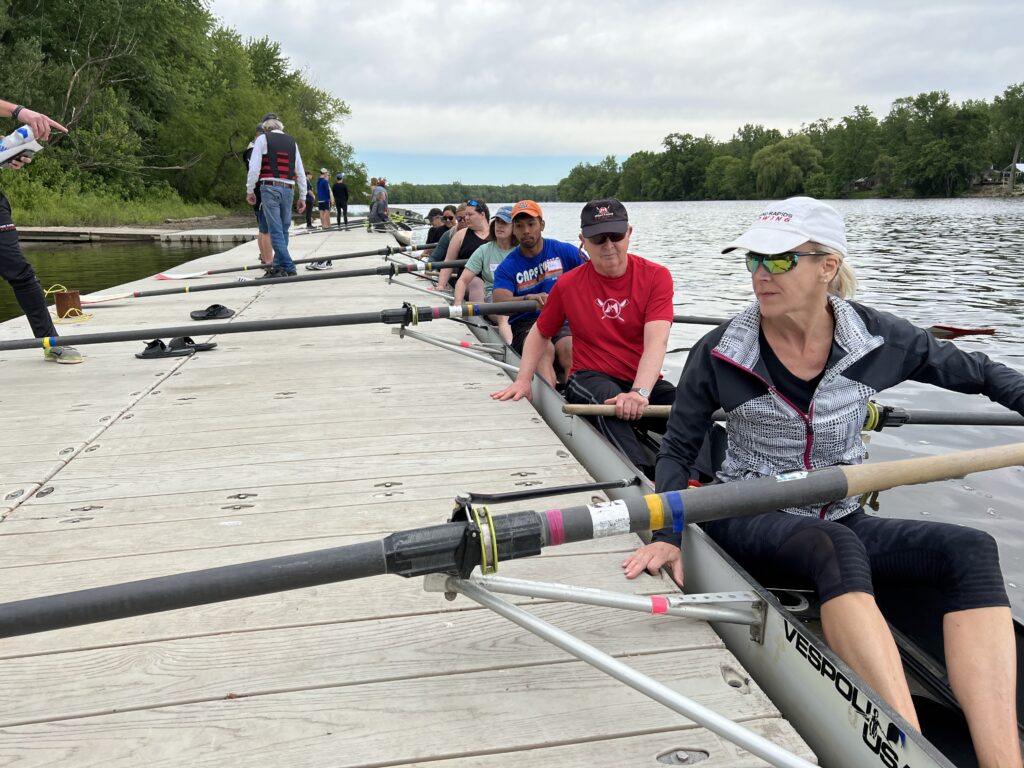 Every adult member of the club is, by default, a recreational rower. Each rower has the choice to participate in our coached recreational rowing sessions, to become certified to scull in coached sessions or independently, and to join the competitive team.
Coached Recreational Sessions
Recreational boats have a varied mix of seasoned and new rowers all with the same goal – to set the boat, row with swing, and enjoy the exercise and the beauty of the river. Coached rowing sessions take place on Monday and Wednesday nights from 6-8pm and Saturday mornings from 8-10am. For rowers who are new to the sport and have not tested for their GREEN certification, there are always coxed 4s and 8s for sweep rowing. Many of our more veteran rowers have become certified and take out the uncoxed boats; 4x, 2x, 2- and singles. Whether you are new to the sport, have been rowing for decades, or somewhere in between, the recreational team provides community, support, and challenge. Rowing is truly a team sport in which everyone helps get the coach's launch, oars, and boats to/from the water. With the coxswain in command, you are sure to hone technique, increase power, and thoroughly enjoy your workout on the river. 
Independent Sculling
Members who gain their GREEN certification by demonstrating proficiency in a single and performing a flip test can take out a club single, double, or quad at any time without the presence of a coach's launch. This is an excellent option for those who enjoy getting out on the water independently according to their own schedule.